The Ray Cutler special from Vorso is an elaboration on the core concepts of the Mk.1 spinning top, mixing a pr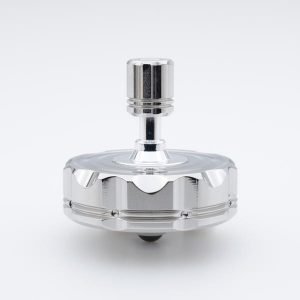 oven design ratio with an epic back story. It's rare that a spinning top has an interesting story at all, let alone one that is genuinely cool.
Price: £62-£98
Diameter: 28mm
Weight: 38.1g – 42.7g
Materials: Brass, Stainless Steel, Copper
Now, don't get me wrong, every design from any maker has a story about how it came to be, and where the inspiration came from. However, the Ray Cutler is an interesting new twist. The name the Ray Cutler Special comes from the Grandfather of Vorso founder Will Cutler. His grandfather was a race car driver, and even raced against driving legend Stirling Moss who is considered one of the best drivers of all time.
Ray cutler was proclaimed as being someone who was passionate for design and improving his cars. He had his own Cooper 500 which was his car and became known as the "Cutler Special". Obviously this is where the name for this top comes from. But what's cooler is the underlying message that this is a winning top that Vorso have tinkered with to make it even better and more interesting. So, the latest iteration of the Cutler special, this time in spinning top form, continues the same trend!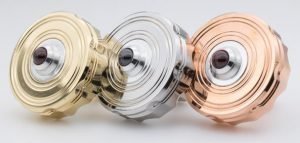 Vorso Ray Cutler Special Design
As for the top itself, it is really easy to spin. It's probably one of the easiest tops to spin that I have come across. Though I have been spinning tops a lot over the last my technique is still pretty lacking. Where others might get a 15 minute spin, ill only get about 10 minutes. However, the only other top I have had where I'd be hitting 10 minutes consistently is the Billetspin Nexus, which is a dedicated tungsten long spinner.
The top itself is designed to take different parts of the car and encapsulate t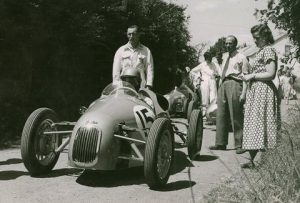 hem into top form. For example the grooves on the side resemble the pistons in an engine. Obviously there are the concentric circles like those found on the wheel of a period race car. The lines on the base seem to be inspired by the front grille of the "Cutler Special" race car.
There are three different material options for the Ray Cutler Special. They are Brass, which is £62, Stainless steel which is £72 and copper which is £82. All three materials come with the option of either a ceramic bearing or a ruby bearing (which will cost £12 more). The are available on the Vorso website (Vorsospin.com), but only for a limited time, so be quick!