The Scullspinner is a fidget spinner from Arkady Lukashenko of Russia. The unique and well manufactured design has won over a lot of fans and made his brand a real contender.
They can be a little pricey (starting at $140), ranging up to $500 for the more unique models. But, given that this operation is quite small, it's an understandable price tag. Similarly priced spinners like the Rotablade stubby for example are far less complex.




Scullspinner review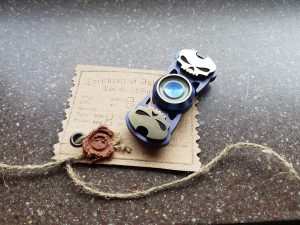 This isn't a long spinner by any means. The sales posts on the Scullspinner Facebook page say 2 minute spin times, but this seems a little ambitious and in reality is more like 90 seconds. But, as with any spinner, this will diminish a bit over time. But you can always clean your bearing to get it back near or better than the out of the box time.
The scull looks great in pictures, and unlike a lot of other designs, more than does these justice in person. The way the light catches the polished faces, but not the anodised body is great. When you spin, about half way through you will be able to see the sculls start to appear even as it spins and this is something totally unique in the spinner world. This is probably the best hidden feature of the spinner.
Scullspinner extras
The glow buttons are really effective, but do need a lot of charging. This is because they're made using a glow resin (as is necessary for a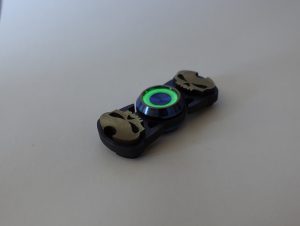 button), not pure glow material. So the actual practical use of the glow is limited, regardless is a really fun addition and worth the extra money. Although, if you were choosing between the glowing eyes and a glow button, I would go for the eyes as that way you can see them whilst spinning.
Are there any downsides?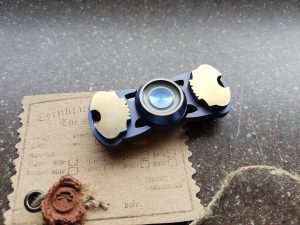 Overall this is a really nice spinner. There are two main downsides though; they are the spin time and the sharp edges. The spin time isn't great compared to the long times of other similarly priced premium spinners, but that is not the end of the world. The bigger issue is the sharp edges. The cool design and fresh cut means that the metal is kind of abrasive on your hands when you spin. This means that using the spinner for long periods of time is not really possible.
However, both of these issues are quelled by the fact that this spinner is more of a looker than an outright spinner. You should buy expecting this, and use it accordingly. If you know this information going in and are ok with it, then you will love this product.
It can only be bought by messaging Arkady on Facebook via his group.