Billetspin is a company owned and operated by Rich Stadler, out of Oshkosh, Wisconsin in the USA. Rich is part of a family of machinist, and was working for the family business – J.Stadler Machine inc. Then a hobby of his led him to make a kickstarter for some spinning tops. This took off beyond all expectation and Billetspin was born.
Visit The Vault for information on all previous tops.


Billetspin is now widely regarded as the biggest spinning top company in the world. They create pieces of "functional art" that have captured the imaginations of customers the world over. Rich has access to, and now owns (as part of Billetspin) several CNC machines to make the spinning tops. This allows for incredible precision, and with that, ludicrously complex designs.
Spinning Top Designs
What separates Billetspin from the rest of the market is the range of design ideas, and the complexity. However, with all of the different machining processes, designs, and materials, the spinning tops still spin true and long.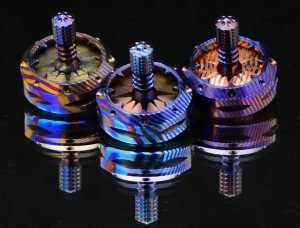 All Billetspin tops are made in batches, and finished model will never be made again. This means that there is an ever evolving array of tops for sale. But it also adds an element of exclusivity to each top, and helps keep the hobby fresh and exciting. The only way to buy Billetspin tops after their release is on the secondary market at Billetspin Sales, on Facebook.
Having been in operation since 2015, there have been a lot of different spinning tops released. The average gap between tops has been 3 weeks, which has led to a vast amount of tops to collect. For more information on all of the tops you can visit the Billetspin Vault.
Spinning tops such as the K2, Navigator and the Matrix have been some of the most successful designs to date. Each design surpassed the last as the most popular, and their complexity and design have driven more people to spinning tops than any other Billetspin top since the original Kickstarter.