The Billetspin Bathgate spinning top is a collaboration between the design of Chris Bathgate, and the manufacturing of Rich Stadler. This is the second collaboration top of 2016, the other being the Infected. Chris Bathgate is a sculptor by profession, specialising in machined pieces of art. The pairing therefore between Rich and Chris is a recipe for success.
Price: $900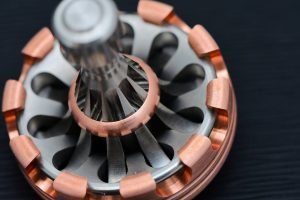 Release Date: 4th November 2016
Variations: 4 (29 units made)
Materials used: SS, Cu, Br (what are these?)
Dimensions: width 1.24" (31.5mm)
For the chart of all combinations please see the bottom of the page.
How to Buy a Billetspin Spinning top
Billetspin Bathgate Design
"The Bathgate" is a collaboration, but most of the design aspect comes from Chris Bathgate, the tops namesake. He has been making elaborate sculptures for years, but had also been admiring Rich's work as a form of functional art. The idea came from making a top, and using that inspiration to create a bigger sculptural piece.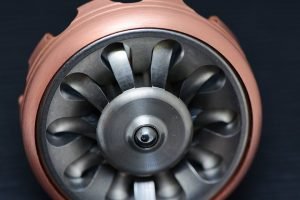 The spinning top was however subject to some design and manufacturing restraints. After all, to make a top that is perfectly balanced is an art for in itself. So there was a conversation opened between Rich and Chris to understand the limitations and capabilities, then create from within those.
The Bathgate was born. By having a totally unique design aspect, the Bathgate is unlike anything seen from Billetspin before or since. After all, any artist will have their flair, and to make outside of that takes an external influence. However, the process apparently widened Rich's eyes to the new possibilities of top making with the design aspect displayed.
The Bathgate is a 5 piece top, with an outer collar, two inner interlocking disks, a purely aesthetic ring, and the stem. All of the combinations had a stainless steel stem, and stainless steel interlocking centre. The outer collar and inner ring were the only parts to change material, and the three options for those were Brass, Copper and more Stainless Steel.
There were 29 combinations made, 7 with copper, 8 with brass, one with flamed SS, and 13 all SS. S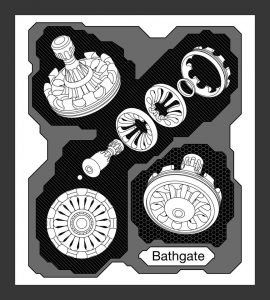 ome were released with varying degrees of polish or machine finish in order to add a bit more variety.
Release and Price
Of the 29 combinations made, 24 were released by sign up sale. They all cost the same amount ($900), and were released one at a time via the sign up sale website. This could only be accessed via the link posted on the Billetspin Facebook page.
The first two combinations were kept, with numbers 9, and 10 being sent to Chris Bathgate himself, and no.11 was given away. The Giveaway was to celebrate the Billetspin Facebook group surpassing 5,000 members.
All of the tops were given a number corresponding to the order in which they were made. They all also came with a certificate of authenticity (COA).
Standard Materials – $900