The Wraith is a completely new kind of spinning top from Billetspin. It was a complete one off made for a friend of Rich's. The Wraith is comprised of 27 different parts, not including the ball bearing. It was the first, and to this point only "elite level" spinning top made by Billetspin.
Price: Production cost over $6000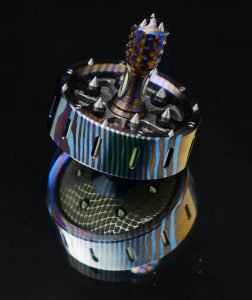 Release Date: 27th April 2016
Variations: 1
Materials used: Timascus, SS, Damascus, Tritium (what are these?)
How to Buy a Billetspin Spinning top
Billetspin "The Wraith" Design
Obviously the Wraith is unique in many ways, but appears to be a culmination of all the things rich would want himself in a top. They include but are not limited to Timascus and spikes, it's clear this design was a labour of love. Perhaps this was to take some time to return to the love of tops after the hectic nature of the launch of the Navigator?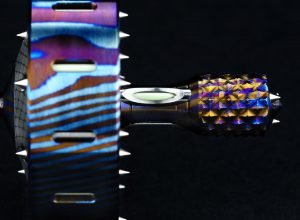 The stem is made of Timascus, but has stainless steel rods through, which house tritium vials. Tritium is a form of glowing material which uses radioactive gas to activate a glowing material. This was the first time Rich had ever used tritium in a top. The stainless steel rods holding the tritium then terminated in three spikes atop the stem.
The main body of this spinning top is Timascus, which is then mounted on a Damascus central disk. Through the centre of all these parts are six more spiked stainless steel rods. The outside of the shell then contains a further 12 tritium vials, half of which are capped with more spikes.
In actual fact, two of these were made, and rich kept one of them. However none have ever been sold.