The Time Coil spinning top is the first major release by Spin Designs by Cami. She has made multiple tops before, but in limited or single releases. However, the experienced machinist is now expanding in a hope to grow her top making empire.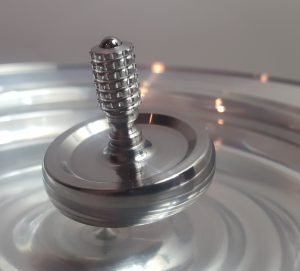 Price: $85
Diameter: 26.8 mm (1.055in)
Weight: 23g – 26g
Materials: Brass, Bronze, Stainless Steel, Copper
Buy Here:CamiSpinDesigns
Time Coil Design
The time coil is a single piece top made on the lathe by Cami Lewis. The design aim was to bring together the best parts of her previous tops into one signature top. In this design we can see elements of the Edge, and the ridges from some of her earlier work on the manual lathe.

This spinning top will be available for pre-order on the CamiSpinDesigns Etsy page. They will run for roughly two weeks before production starts, and then throughout. It will be a limited run, but limited only by time, so if you want one, go grab one now.
There are four different material options, Brass, Bronze, Stainless Steel, and Copper. It has two tungsten carbide ball bearings, one in the top and one at the base. This means that the top can be spun both right side up, as well as upside down. It takes a unique skillset to successfully spin upside down, but the option is there should you need it.
Whats in the box?
Part of Cami's self imposed design brief was to make a top purchase that provides the full experience. what that means in this case is that each top will ship with everything you need to keep, spin and maintain your top. so, in each parcel there will be a rugged hard case, a lens to spin on, and a microfiber cloth.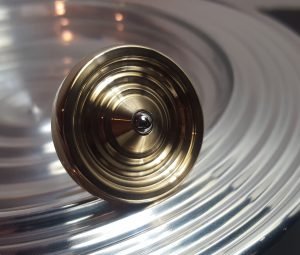 The case and package touch is something that we don't often see in the top world, and makes this an eye catching prospect irrespective of the lovely design. It means that one could venture into the world of spinning tops with just the one purchase. For most people the receipt of their first top is full of wonder, but also questions. Questions like "how do I spin it", and "how should I clean it", well having a lens and case means that even newcomers to the spin community will be all set with just the one purchase. This is a really nice idea, and one I think would be welcomed across all makers. It will even be a nice touch to the veteran spinners, as who doesn't like to receive a few extra gadgets?
The time coil is $85 regardless of the material options. But that includes the extras, and there are discounts for orders of multiple units.