It's not every day you get to meet Buzz Aldrin, it's also not every day you receive a unique spinning top from Billetspin. However, I had the pleasure of doing both. Buzz Aldrin was the second man on the moon after he and Neil Armstrong flew (along with Michael Collins) on the Apollo 11 mission. Since he returned he has remained a hero the world over.
I met as part of a dinner held in the Kennedy Space Centre, and had the opportunity to talk with him. Knowing this was going to happen, and knowing that Buzz has a penchant for trinkets and a passion for engineering I contacted Billetspin and asked if they would like to make him a spinning top. They did, and that's how I came to hold the Black Timascus / Flamed Mokume / Timascus Matrix.
Buzz's Unique Matrix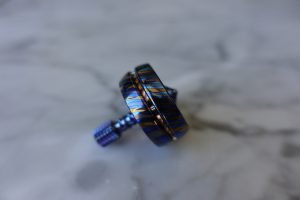 The top itself is a totally unique version of the Matrix top, which is a 9-piece top from Billetspin launched in March of 2017. Black Timascus is a relatively new material for Billetspin, and combines regular Timascus with strips of zirconium (Zirc). This gives the whole material a much darker look and all together looks that bit meaner.
The flamed Mokume is also a rarely used material for Billetspin. This adds significantly to the unique nature of this piece, but also compliments the stripes of the black Timascus really nicely. The flaming doesn't alter the bronze in the three colour Mokume too drastically, but it does make the copper section much darker, almost a dark brown. These stripes look pretty similar to normal 3 colour Mokume when the copper has developed a patina.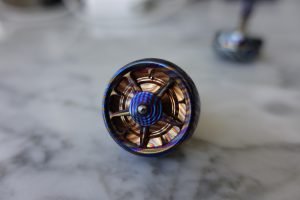 Lastly the Timascus stem. This is not something I have seen before on a top in the time that I have collected. There has been a lot of talk around the idea of Timascus stems. However it is frequently dismissed because of the price of making it. There is a lot of waste material in making a stem, and so making one from an expensive material like Timascus adds a hefty cost. However, it is a gorgeous addition to what is already a beautiful top. The stem is blued throughout and looks dramatically different from the only partially coloured Flamed Stainless Steel stem on the matrix exotic combo no.4.
What makes this top special is that it is a combination of three different materials that are very rarely used by Billetspin. But not only this, it has a continuation of tightly woven striped patterns on each major section of the top. Although they're not aligned in direction they still work really well together and add a satisfying continuity.
Giving Buzz Aldrin his spinning top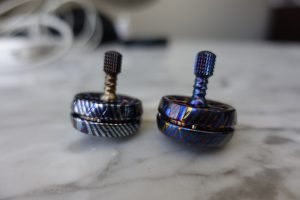 The best way to sum up this meeting is by watching the video. However the brief section of the encounter where we talked about the top went very well. Buzz can be a bit wayward with his thought patterns however the top seemed to interest him, especially when mentioning the spin time.
However, I have heard since the meeting that he enjoys the spinner, was interested by the idea of precision spinning tops. Whether we will see Buzz starting a collection of his own is questionable, however it was a pleasure to meet him, and a pleasure to pass on such a wonderful piece of art!