The Crown is the first mini spinning top by Billetspin. It was also the first spinning top with a stem from them in 2017. The Crown carries on the trend from the end of 2016 of having cheaper models of top. Though the Triskelion which immediately preceded it was expensive, it was the third out of the last four to be on the cheaper end of the spectrum.
Price: $110 – $120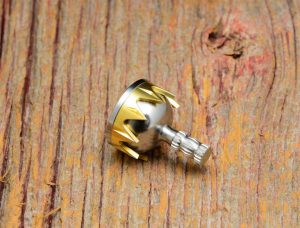 Release Date: 27th January 2016
Variations: 9
Materials used: SS, Cu, BR (what are these?)
Dimensions: width 0.75" (19mm)
For the chart of all combinations please see the bottom of the page.
How To Buy a Billetspin spinning top
Billetspin Crown Design
Its not hard to see where the top gets its name. The Crown is a two piece top with the Crown section being a separate piece to the main body. Rich is a big fan of spikes, and claims that if he cant make sharp things, he might as well stop making tops.
When an image of just the Crown part was shared, the response was so big that Billetspin decided to release them as their own product. In the same launch it was possible to buy just the Crown section, as well as the tops. The Crown itself acts as a great stand for spinning top, and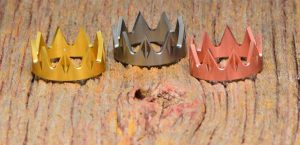 also pairs very well with the newly released Billetspin Spheres.
Unfortunately the top of the stem caused some issues on release. In an attempt to save costs to keep the price down, the top of the stem was left untreated. Some people were unhappy with the rough finish, while others enjoyed it. As a compromise, Rich offered a free service to all those that wanted it, to remedy the stem "issue".
The Crown was made using the standard materials of stainless steel, copper and brass. But there was the option to have the SS flamed for $10, giving it a dark blue colour.
Exotics and Exclusives
There were no exotics made for the Crown. There was going to be a 1 of 1 Timascus/Zirc combo made if the sales went over a certain number. However the campaign ended on 92.5% of that number so it never was made.
Release and Price
All of the Crown tops were released on the Billetspin website. All regular combinations were $110, but anything with flaming cost another $10 coming in at $120
Standard Materials – $110 – $120