The Rotor spinning top from Billetspin was a much more casual and relaxed design, and release. For context, the rotor was released just after the extremely popular Navigator. However, that release was not without its trials and tribulations. So the rotor returned to the basics of tops design and release.
Price: $125 standard $200 exotic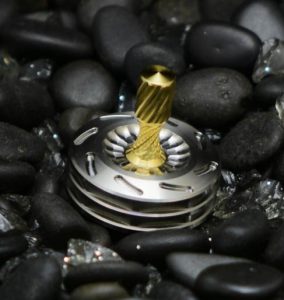 Release Date: 16th May 2016
Variations: 9 regular, 3 exotic
Materials used: SS, Cu, Br, Damascus (what are these?)
Dimensions: width 1.1" (27.9mm)
Weight: 48g
For the chart of all combinations please see the bottom of the page.
How to Buy a Billetspin Spinning top
Billetspin Rotor Design
The name of the Rotor is easy to understand. However, in earlier prototypes for this top, the outer grooves on the top of the base were more liner and didn't have the directional aspect on the released version. This theme of directionality runs throughout, and gives the rotor a very unique look. Surprisingly directional designs are not that common in spinning tops.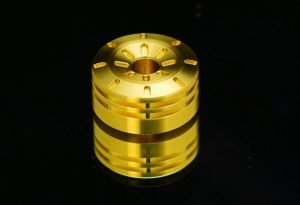 The stem is a spiralling pattern of alternating deep and shallow grooves. They run from the base of the stem, to the tip. This isn't all that common, as normally the grip remains just at the top of the stem. The rotor has quite a high centre of gravity (COG) , which means it is somewhat difficult to launch. The grip running to the base of the stem goes some way to rectifying this issue as it means you can grip closer to the COG.
The side of the spinning top has one of the best kept secrets for this design. Sandwiched between the three easily visible rings is a more geometric octagon. This isn't immediately obvious but adds depth to the side of the top. This is a nice touch as often with one and two piece tops the sides are pretty basic.
The rotor was made with the standard trio of materials; Bronze, Copper, and Stainless Steel. All 9 combinations of stem and base were offered for this two-piece top.
Exclusives and exotics
There were only three exotics made, but they were announced at the same time as the rest of the tops. This was possibly to avoid the disappointment some felt with the Damascus in the Navigator. The three tops combined a Damascus steel body and a copper stem, separated only by the pattern of the Damascus.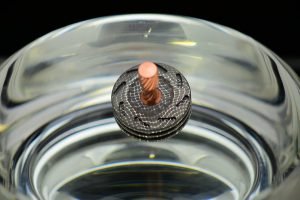 There were three different kinds of Damascus steel used, Spiro, Basketweave, and Razorwire. Each lends a somewhat unique look to the top as they have their own visual properties. Spiro is a wavy pattern of lines, Basketweave is interweaving stretches of lines, and Razorwire is small barbed patterns.
Release and Price
All of the rotor tops were released on the Billetspin website on the 16th May 2016. The exotic and the standard materials were all live at the same time.
Standard Materials – $125
Exotic Materials – $200